MetroGreenscape, Inc.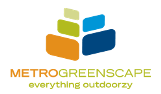 Booth: 337
1622 Parker Drive
We are MetroGreenscape, and we are your full-service design, build, and maintenance firm who can create and maintain anything that you can imagine in your lawn, landscape, or outdoor living space. Our goal is to make the most of your outdoor living space and stay within your budget so that you can enjoy it with your family. We design and build around your hopes, dreams, and desires for your family, providing you with turnkey solutions so that you can surround yourself with a lush, healthy outdoor space without investing any of your own time. Our knowledge, experience, and ability to truly listen to you will ensure that your own piece of the outdoors will become a functional extension of your home. Our secret sauce is our team! We all work hard to live out our mission to impact people and change their lives eternally through the implementation of our core values.
Contact us today at 704-504-0980 to learn more about the quality services we provide.